A roof inspection in Brookline is an excellent investment for every property! A full inspection spots damage even in hidden areas, allowing you to schedule timely repairs. Inspections can also estimate a roof's age, so you can better estimate it's expected lifespan.
While there are many reasons to schedule regular roof inspections, some property owners might still worry about the price! Check out some vital information about Brookline roof inspection costs so you know what to expect.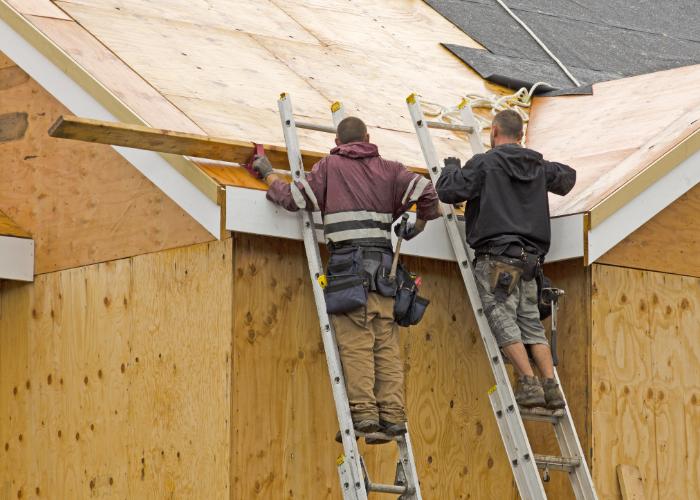 How Much Does a Roof Inspection in Brookline Cost?
According to HomeAdvisor, most homeowners can expect to pay between $120 and $320 for a roof inspection. Your costs will vary according to roof size and number of dormers and other obstructions. A roof that's difficult to access means more time and work for an inspection, so costs increase accordingly.
Some roofers might also charge more to inspect specialty materials like metal panels or clay tiles. If you notice indicators of roof damage inside the home such as water stains or mold, inspecting these might also increase your costs.
Some contractors might also increase their costs when demand is high. For instance, you might pay a premium for inspections after severe storms move through the area! Severely damaged roofs, such as from a lightning strike, might need a more thorough inspection. This can also increase your costs.
How Do You Get a Free Roof Inspection in Brookline?
You might notice some local roofing contractors advertising free roof inspections with repairs. While it sounds like the inspection is free, this isn't necessarily true!
Some contractors advertising "free" inspections actually roll an inspection cost into subsequent repair bills. So, as an example, you might need to pay the contractor $250 for an inspection. If you decide to hire them for needed repairs, you would get that amount credited on your final invoice.
This arrangement means that a supposed free inspection isn't really free! Does this mean that the roofer isn't trustworthy? Not necessarily, as some smaller companies simply can't spare a roofer to perform a free inspection. Others might not be busy enough to absorb the cost of free services, including inspections.
Not all roofing companies operate this way, however. Some larger companies and those who've been in business for years might offer truly free inspections. The inspection will usually include a repair price quote, or a report on the roof's condition.

When Your Property Needs a Roof Inspection in Brookline, MA
Every property owner should schedule a roof inspection every two to three years. Spotting damage early allows for timely repairs, keeping that damage from getting worse. Also, the longer you ignore cracks and roof leaks, the more risk of interior water damage. Framing wood rot, mold growth, stained drywall, and other issues get more costly the longer you put off needed repairs.
It's vital that a property owner schedule a roof inspection even for new roofs! Poor-quality materials or installation methods risk premature damage. Consider an inspection when a roof is five years old and then every two or three years after that.
Property owners should also schedule an inspection if you notice potential signs of roof damage. This includes sagging, bowing or curved shingles, "bald spots" or missing shingles, and excessive mold or algae growth. Inside a structure, check for ceiling stains, trapped humidity in an attic, and sunlight coming through an attic ceiling.
Should You Repair or Replace the Roof?
If your roof inspection finds severe damage, you might wonder if you should invest in repairs or replace the roof. Your contractor can offer personalized advice, but consider when you might opt for a new roof versus repairs:
How old is the roof? If it's nearing the end of its lifespan, you might face repeated repair bills over the next few years. You will also need to replace it outright in a few years anyway! Replacing it now means avoiding those added repairs.

Today's roofing materials are more durable than ever before. Investing in a new roof now might mean fewer repair bills over the years!

Consider a roof's overall appearance. Worn shingles and faded tiles can decrease curb appeal, making a property look downright dingy. An updated roof can create a more welcoming look outside your home or business.

New roofs often increase property values and make a structure more appealing to buyers. If you might put your property on the market anytime soon, consider investing in a new roof.
The Brookline Roofers is happy to provide this information about a roof inspection in Brookline to our readers. If you've found it helpful, please share on social media. If you're in the market for a truly FREE roof inspection, call our Brookline roof repair contractors. We offer expert, guaranteed services you can trust.