As a business owner looking to have a project for commercial roofing in Brookline done, your first question is likely the same as most; how long is it going to last? Before investing your company's money into an improvement of this significance, you want to make sure you're getting what you pay for and that your commercial roofing responsibilities will be taken care of for a while.
Commercial roofing in Brookline, when appropriately done by highly-trained professionals, is expected to last anywhere from 20 to 70 years, depending on what type of materials are installed.
The various types of roofing materials offered for commercial roofing in Brookline come at a range of price points. Account for how much you've budgeted for a new commercial roof. Think about how long you plan to stay in your current facility. Then, an honest and reliable commercial roofing company will help point you in the right direction. Before you contact your preferred roofing experts, learn more about commercial roofing and how long it lasts.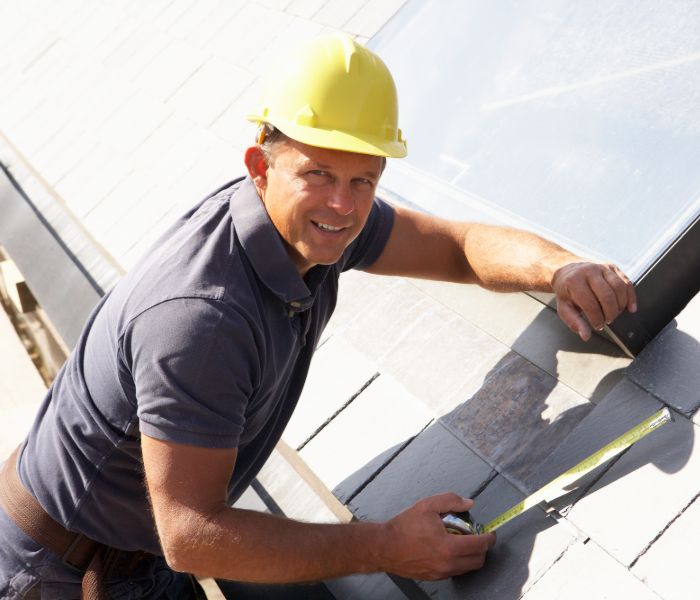 Commercial Roofing Types and Life Expectancy
The type of commercial roofing in Brookline that will best suit your property will incorporate a few different factors. You should take into consideration the weather of the region, surrounding environment, and variables like animal and plant life specific to the location.
Generally speaking, there are two classifications for commercial roofing that include low-slope or flat. The roofing materials that can be installed on these types of structures limit the selection of choices slightly from residential roofing alternatives.
Here, in no particular order, are the most well-known commercial roof types with more detailed information, including how long they last.
1. Thermoplastic Roof Membrane (PVC & TPO)
Thermoplastic roof membranes are ideal for second-generation applications. The lightweight materials are reflective and UV resistant, helping with energy efficiency and comfort. Restaurants and other entities with emissions of fats and oils through the ventilation system frequently have PVC and TPO roof membranes installed because of the protection from punctures, chemicals, animal fat, and bacteria growth.
Life expectancy: 22 to 30 years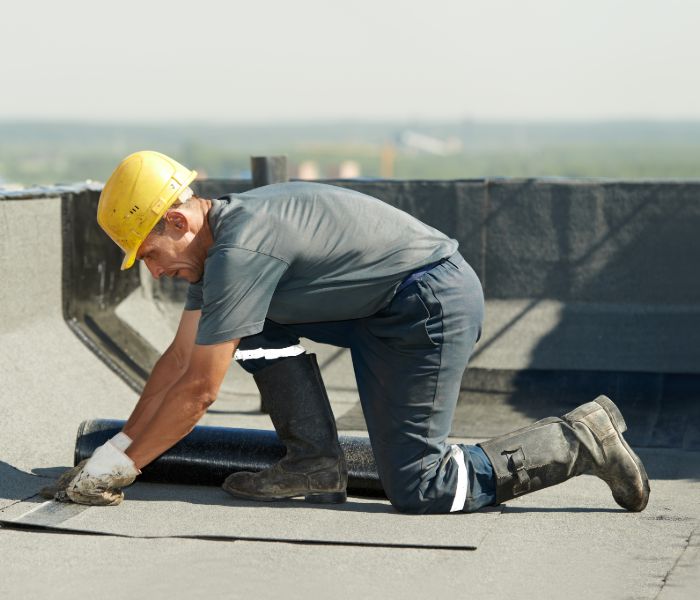 2. Metal Roofing
Metal roofs for commercial buildings are desirable because of the several different types of metal that can be installed. Corrugated galvanized steel, tin, aluminum, copper, metal tile sheets, and stainless steel are a few choices out there. Metal roofs are fire-resistant, strong, and create a unique design for commercial buildings.
Life expectancy: 40 to 70 years
3. Built-Up Roofing Membrane (BUR)
Built-up roofing, or more traditionally known tar-and-gravel commercial roofing, is built in layers. It's flexible, and the layers can be adjusted in amount to fit the budget and durability requirements. It is known as being cost-effective and tough, which makes it a favorite option.
Life expectancy: 20 to 30 years
4. Modified Bitumen Roofing
Modified bitumen roofing is like built-up roofing in the way it's installed; by layer. Stability and protection are created through the two-ply system that's attached to the roof decking. Commercial roofing clients like modified bitumen roofing because they are easy to maintain and require only an annual inspection and roof cleaning. Business owners who see a lot of action up on the roof have the enhanced strength necessary to hold up under the demands with this type of roofing element.
Life expectancy: 20 years
5. Thermoset Roof Membrane (EPDM)
A single-ply rubber material makes up the thermoset roof membrane or EPDM roofing for commercial properties. It is used by business owners that are concerned with ozone and ultraviolet light resistance factors. The installation is described as being relatively simple, and repairs are inexpensive and not frequently required. Cold temperature flexibility, lower cooling from energy-efficiency increases, and resistance to solvents, alcohol, and other acids make this an attractive choice for commercial roofing.
Life expectancy: 22 to 35 years
6. "Green" Garden Roofing System
A garden roofing system is something a little extraordinary for commercial roofing. Still, it comes with various benefits that include an ability to protect the structure while also improving energy efficiency and managing drainage and water. It's an eco-friendly choice and one that's impressive to look at compared to other traditional roofing styles.
Life expectancy: 30 to 50 years
The Cost of Commercial Roofing
The cost of commercial roofing is something that must be customized to fit the specific project. Several things are taken into account, including size, material type, budget, and slope. On average, commercial roofing in Brookline and around the nation when newly installed ranges in price from $3.50 per square foot to $7.50 per square foot.
A qualified roofing contractor from The Brookline Roofers is available to provide honest, accurate roofing estimates for free for those interested in commercial roofing.